Sale!
Description
Features

25 – 200 watts suggested amplifier power range
JBL engineers designed the Control One bookshelf loudspeaker to deliver enhanced, room-filling sound from a compatible AVR (audio/video receiver) or 25- to 200-watt power amplifier.

Two-way speaker configuration
They're low profile at just 9 inches (229 millimetres) high, 6 inches (156 millimetres) wide and 5-1/2 inches (140 millimetres) deep, but the JBL Control One's two-way speaker design and quality cones reproduce a wide range of frequencies for realistic, room-filling, can't-believe-your-ears imaging.

4″ (100mm) woofer and 1/2″ (12mm) titanium-laminate tweeter
When the JBL name is on a speaker such as a Control One, you know you're getting big, room-rocking bass straight from the professional recording studio. Titanium technology in JBL tweeters is another studio idea. Titanium's strength and light weight make it perfect for quickly and accurately reproducing crystal-clear high frequencies without strain or distortion, even when the volume is cranked up.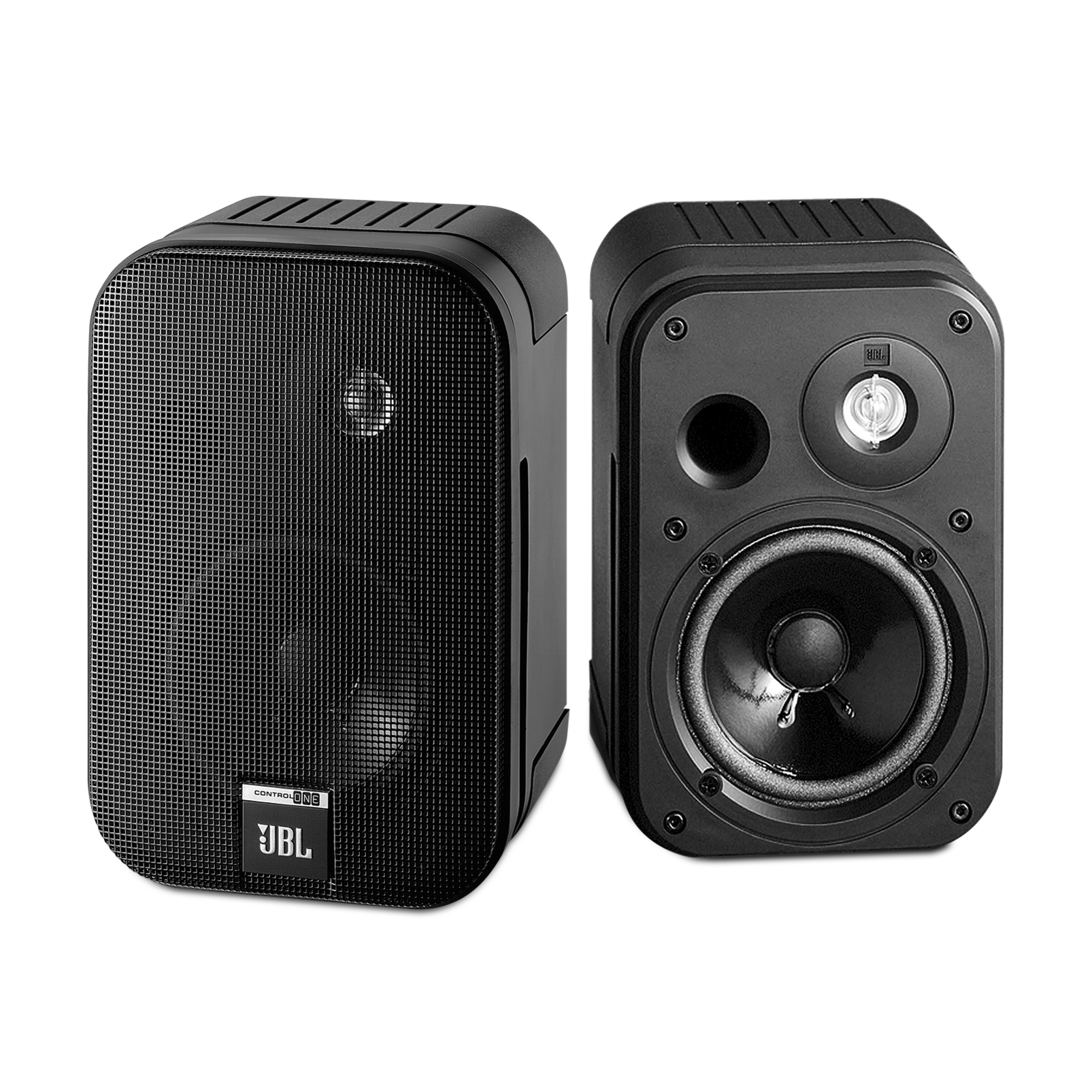 Specs & Downloads
Item# CONTROL ONE
Product Description
Take great audio performance throughout your house.
The Control One speaker (available in black or silver) is the original versatile and rugged monitor loudspeaker. For music or movies, these speakers cram more than 60 years of JBL expertise into an unobtrusive package.
Audio Specifications
Power Handling (Peak)
200W
Maximum Recommended Amplifier Power
100W
Sensitivity
(2.83V@1m) 89dB
Frequency Response
80Hz – 20kHz
Power Handling (Recommended)
50W
Speaker Specifications
Low-Frequency Transducer
4″ (100mm) Magnetically shielded
High-Frequncy Transducer
1/2″ (12mm) Titanium-laminate, magnetically shielded
Control and Connection Specifications
Connector Type
Direct Wiring
What's in the box?
2 Control One speakers
2 rotatable wall-mount brackets (including bar wrench and backup cords)
Owner's manual
Audio Specifications
Power Handling (Peak)
200W
Maximum Recommended Amplifier Power
100W
Sensitivity
(2.83V@1m) 89dB
Frequency Response
80Hz – 20kHz
Power Handling (Recommended)
50W
Speaker Specifications
Low-Frequency Transducer
4″ (100mm) Magnetically shielded
High-Frequncy Transducer
1/2″ (12mm) Titanium-laminate, magnetically shielded
Control and Connection Specifications
Connector Type
Direct Wiring