Q Acoustics 3050i
₹114900
Q Acoustics 3050i
Floorstanding Speakers
The all new, Q 3050i floorstanding speaker has been created using design principles taken from our critically acclaimed Concept 500 Series, resulting in stunning sonic performance and beautiful aesthetics.
Key Features
Striking floorstanding Speakers with twin 165mm and 22mm precision drivers
The Q 3050i cabinet uses Point-to-Point (P2PTM) bracing techniques to reduce intrusive cabinet vibrations for a purer sound
HPE™ technology eliminates sympathetic resonance within the enclosures by equalising air pressure within the 3050i cabinet
Conventional terminal panel cut-outs have been removed, giving greatly improved structural integrity to the enclosures and new low profile binding posts
Uses a 22mm decoupled High Frequency Driver with wide surround creating a wide even dispersion of stereo
Description
Product Description
Twin 165mm and 22mm precision drivers
HPE technology to eliminate sympathetic resonance
Uses Point-to-Point (P2PTM) bracing techniques to reduce intrusive cabinet vibrations
Product features
If you are a person who likes to enjoy things a little louder than normal and really wanna feel the vibe then these Q Acoustics 3050i twin floor standing speakers. Undoubtedly a much more improved and better version of their predecessors 3010i and 3020 to make you feel each beat, rhythm crisp and clear and also balanced with a perfect amount of needed bass.
It comes with features such as twin precision drivers of 165mm and 22mm, point to point bracing techniques for a much more clear and pure sound, improved structural integrity with a well-thought design for widespread effect, and HPE technology to equalize air pressure for eliminating sympathetic resonance in the closures.
High End Technology
The twin floor standing speakers are built with Helmholtz Pressure Equalizer (HPE) technology which eliminates sympathetic resonance in the closures by converting pressure to velocity resulting in overall less air pressure for lesser disturbance in your  soundpath
P2P Bracing
Point to point bracing techniques are also used in these speakers to give them more accuracy and precision in any possible frequency range for enhancing the stereo capability and reduce the rigidness
Powerful Drivers
Often seen vibrations from the woofer interfering with the performance of the speakers but not in this case, the powerful twin precision drivers of 165mm and 22mm isolate any kind of disturbance and deliver a power packed audio performance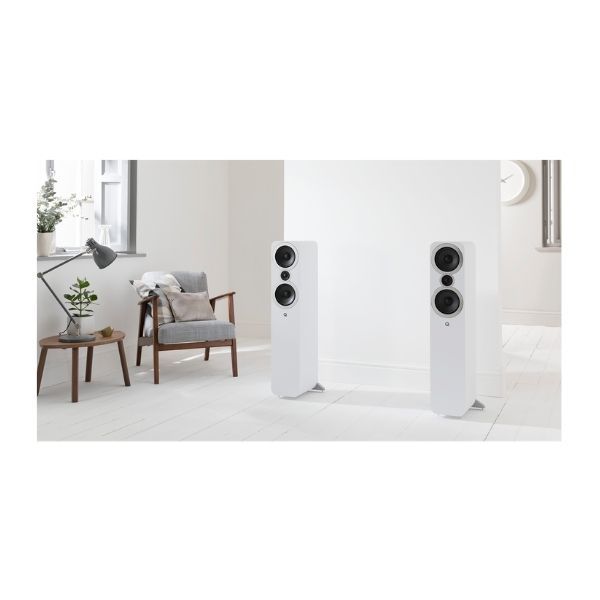 Elegant Design
Each of the speakers has chrome bezel around the drivers and also magnetic speaker grilles to give them a majestic and classy look. They are also available in classic Graphite Grey, English Walnut, Carbon Black or Arctic White colors
Ease Of Positioning
The floor standing twin speakers are very easy to set up because they can just simply stand beside your TV or computer system , you do not even need to mount them on the wall
Perfect for Movie
In case you want to enjoy some good movies with friends at home or host a little party then these are the best. Their high performance drivers deliver great sound with echoing effects and special cinematic experience giving you theater like feel
IN THE BOX
Sales Package
Tower speakers, User documentation
General
Brand
Q-Acoustics
Model
3050i
Year
2020
Color
black/Walnet
Specifications
Drivers
165mm and 22mm precision drivers
Special features
reduces intrusive cabinet vibrations for a purer sound, HPE technology eliminates sympathetic resonance within the enclosures by equalising air pressure
Dimension
Dimension
30.99 x 30.99 x 102.11 cm
Weight
17.8 Kilograms