SVS
Regular price
Rs. 85,000.00
Regular price
Rs. 85,000.00
Sale price
Rs. 85,000.00
Unit price
per
-0% OFF
Sold out
Product Description
Powerful Bass Performance: The SVS Sound PB-1000 Pro Active Subwoofer delivers deep and impactful low-frequency output, immersing you in a cinematic audio experience.
With advanced digital signal processing, this subwoofer optimizes bass response and ensures precise control over bass frequencies.
Its high-excursion 12-inch driver with dual ferrite magnets provides tight and accurate bass, perfect for both music and movies.
The subwoofer offers versatile tuning options with adjustable room gain, phase control, and a user-friendly smartphone app for fine-tuning.
Featuring a rigid cabinet construction and a premium finish, the PB-1000 Pro not only sounds great but also looks stylish in any home theater setup.
Product features
The unique SVS PB-1000 Pro Powered Subwoofer. The first SVS PB-1000 shook the subwoofer world with an unmatched exhibition at its cost and then some. Presently, the PB-1000 Pro increases current standards much higher with more noteworthy low-recurrence yield, further bass expansion down to a throaty 17Hz, execution improving double port bureau plan, and a huge move up to the client experience. 
A redesiging of the first 10-inch driver,
the PB-1000 Pro elements an all-new 12-inch high-trip driver
with double high-grade ferrite magnets and FEA-enhanced inside engine design for outrageous journey and gigantic, immaculate result. With developments to the cone, encompass, voice curl, and engine gathering, the unflappable 12-inch driver sneaks up suddenly with huge bass never-before-heard from a ported subwoofer remotely close to the cost.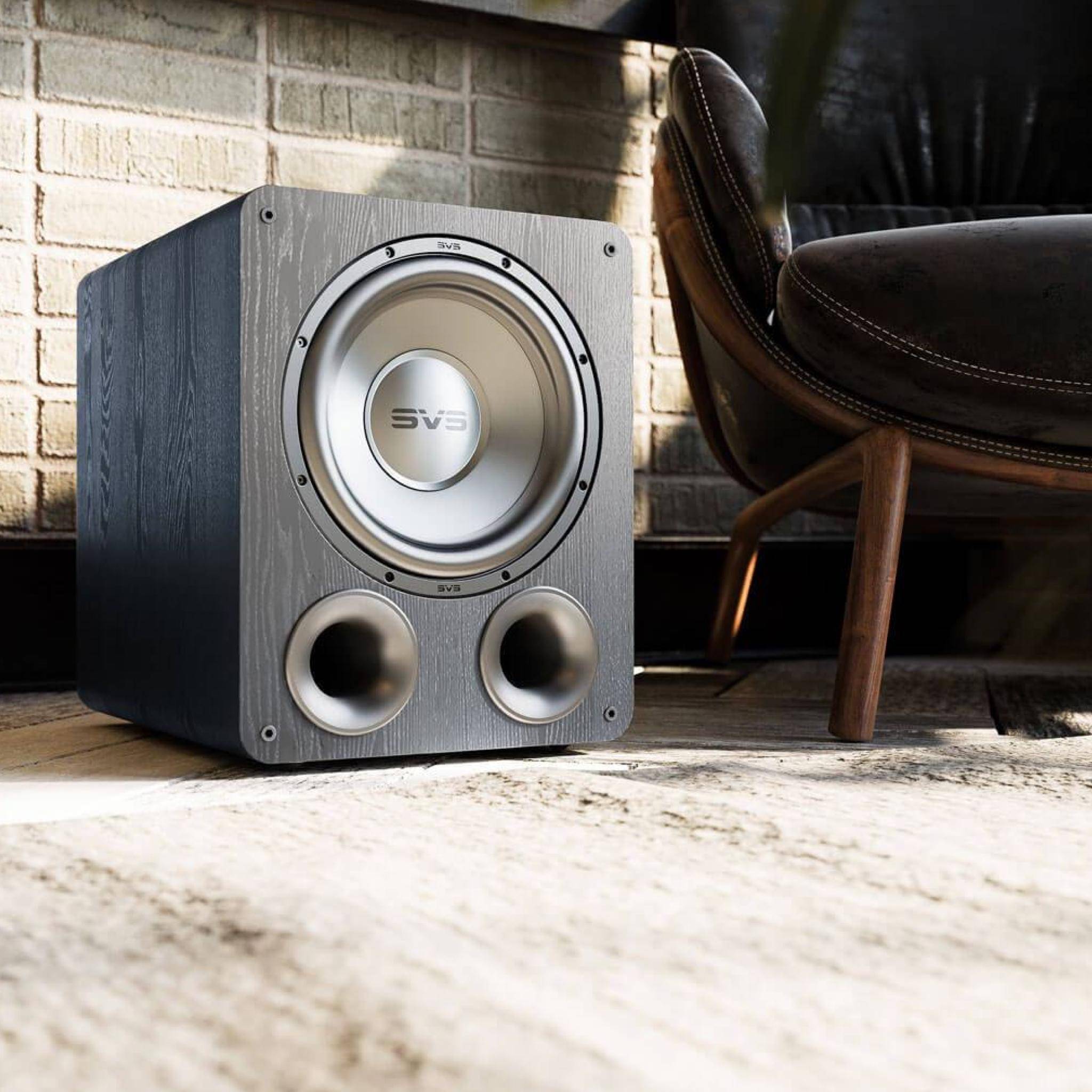 12-inch Driver
The PB-1000 subwoofer features a powerful 12-inch high-excursion driver, expertly crafted for exceptional bass performance. Its precision-engineered design immerses you in a spine-tingling audio experience, making every low-frequency note not only audible but palpable. This enhances your music and movie playback, delivering unmatched depth and resonance.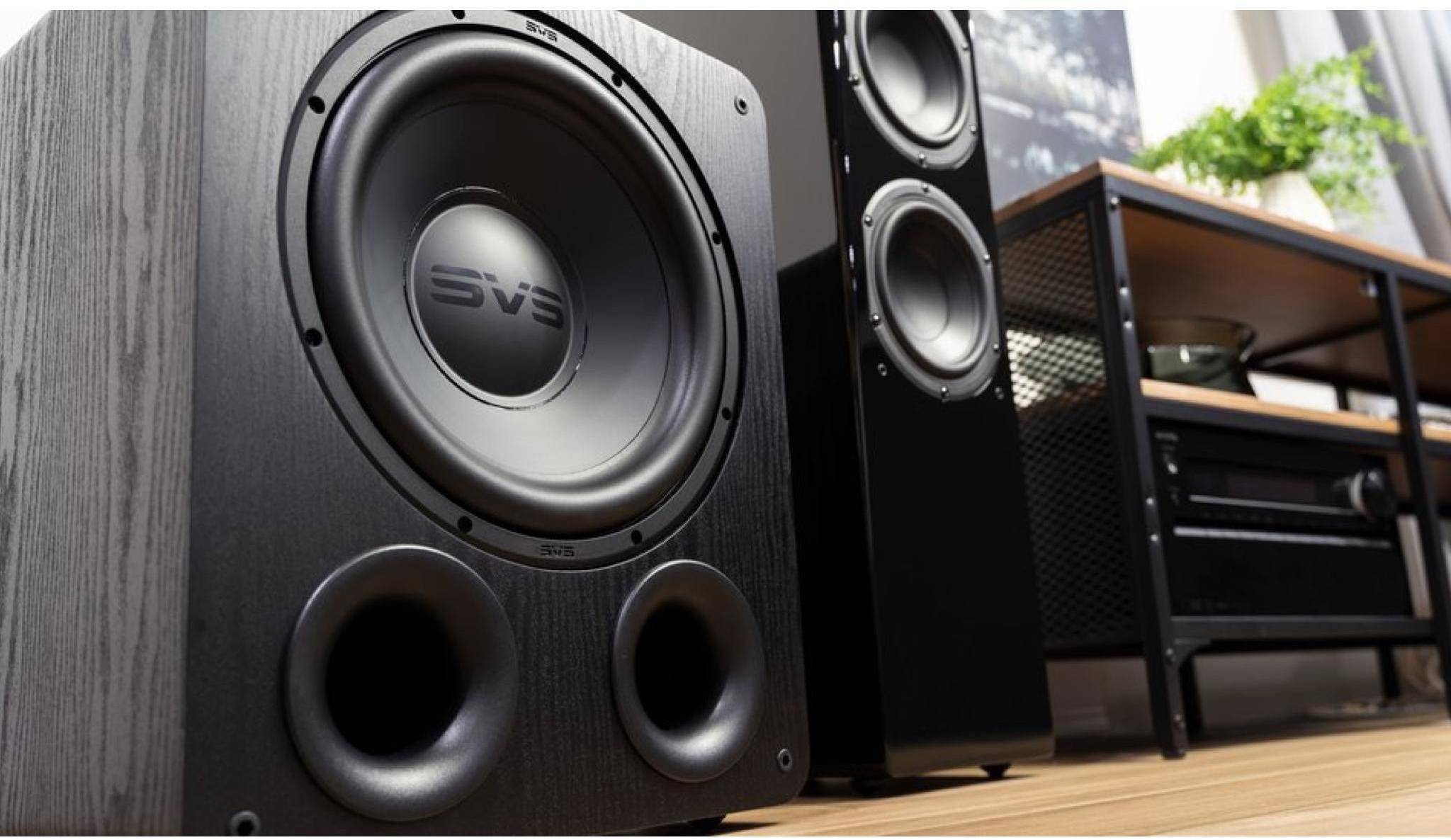 325 Watts RMS Power
The PB-1000 boasts a robust built-in amplifier, delivering an impressive 325 watts of RMS power for distortion-free, potent bass. Seamlessly integrated with your audio system, it elevates your experience, allowing you to both hear and feel low-frequency details. With its remarkable power capacity, even demanding tracks are faithfully reproduced, creating a cinematic and concert-like bass experience.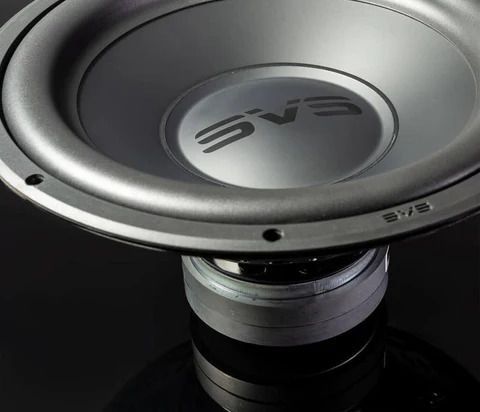 Advanced DSP Controls
The PB-1000 Pro Active Subwoofer boasts advanced digital signal processing (DSP) controls within its sophisticated design, allowing users to precisely customize the bass output to suit their preferences and room acoustics. Whether it's thunderous bass for movies or nuanced bass for music, these controls provide flexibility to fine-tune parameters, ensuring a harmonious and immersive audio experience. 
Dual Ported Design
The SVS Sound Pro subwoofer showcases a dual-ported cabinet design, a hallmark of its exceptional performance. Carefully engineered for optimal bass efficiency, the dual ports minimize air turbulence, reducing distortion and noise. When combined with the 12-inch high-excursion driver, this synergy reproduces deep bass frequencies with astonishing precision, enriching audio and cinematic experiences.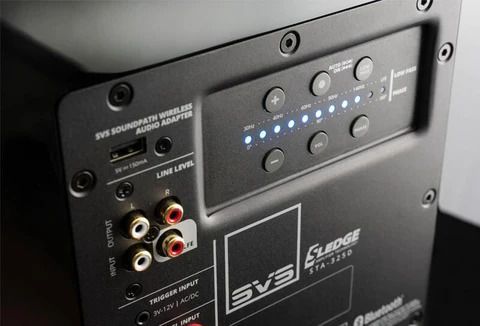 Flexible Connectivity
Designed with user flexibility in mind, the 1000 Pro Active Subwoofer offers versatile connectivity options. It includes line-level inputs for AV receivers and speaker-level inputs/outputs for compatibility with various systems. Some models may even offer wireless connectivity for cable-free positioning. This adaptability ensures a seamless fit into any audio setup, emphasizing both versatility and performance. An essential addition for audio enthusiasts.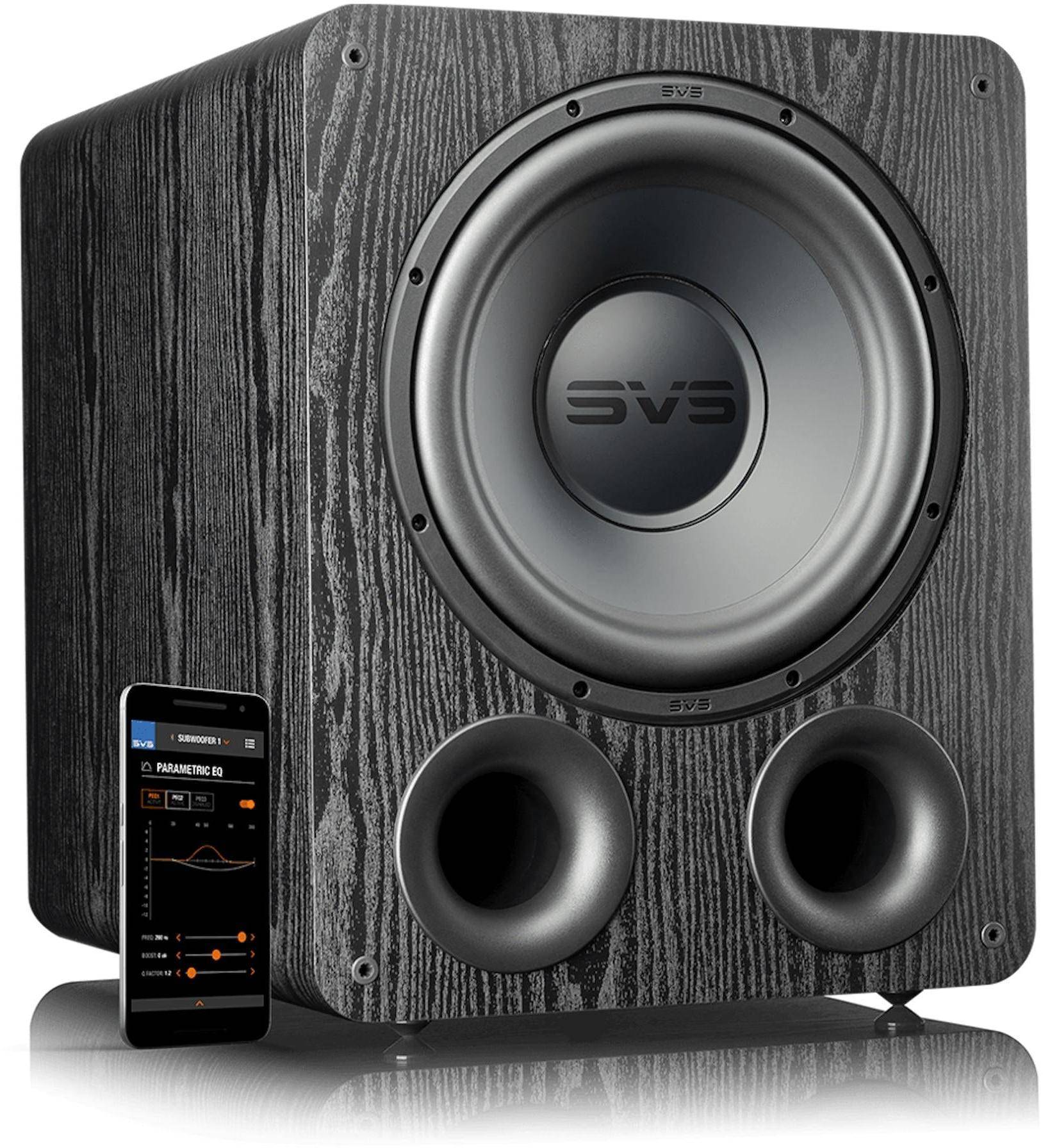 Smartphone App Control
Select SVS subwoofer models offer dedicated smartphone apps for a premium user experience. These apps provide intuitive control and adjustment through your mobile device. Users can fine-tune settings like crossover frequencies, phase alignment, equalization, and volume for a personalized audio experience, whether for movies or music. This technology showcases SVS's commitment to innovation, elevating your audio journey.  
General
Brand
svs
Model
PB-1000 Pro
Year
2022
Color
black
Specifications
Subwoofer Type
Active
Enclosure Type
Bass-Reflex
Amplifier Power Rating

- 325 W RMS

- 820 W Peak

Drivers
1 x 12" / 30.5 cm
Voice Coil
1.5" / 3.8 cm
Ports

2 (Front-Firing)

Frequency Response
- 17 to 260 Hz (±3 dB, with All Ports Open)
- 19 to 260 Hz (±3 dB, with All Ports Sealed)
Amplifier Class

Class-D

Connectivity

- 1 x Stereo RCA Input (LFE)

- 1 x Binding Post Pair Input

- 1 x Stereo RCA Output

- 1 x Binding Post Pair Output

- 1 x 1/8" / 3.5 mm Input (12 V Trigger)

- 1 x USB Type-A (Service/Wireless)

Input Impedance

- RCA: 16 Kilohms

- 20 Kilohms

Phase Adjustment
0 / 45 / 90 / 135 / 180°
Wireless Connection Protocols
Bluetooth
Bluetooth
Yes
AC Input Power
220 to 240 VAC, 50  Hz
Power Consumption
0.5 W (Standby)
Placement & Mounting Options
Floorstanding
Floor Contacts
Rubber Feet
Cabinet Material
MDF
Grille
Cloth Mesh (Removable)
Cable Length
Power: 6' / 1.8 m
Operating Temperature
113°F / 45°C
Dimension
Dimension (with Grille)
15 x 18.9 x 20" / 380 x 479 x 509 mm
Dimension (without Grille)
15 x 18.9 x 19.2" / 380 x 479 x 488 mm
Weight

42.5 lb / 19.3 kg (with Grille)
Share
View full details
100% Original

Get 100% Original Product from your favourite brand.

Offers

Get Flat 2% Off on all Debit Card Transactions.

Easy Return

Get easy return and replacement options on all products

Secure Payment

Pay securely using our trusted partner gateway.